Top 5 Benefits of Coding for Kids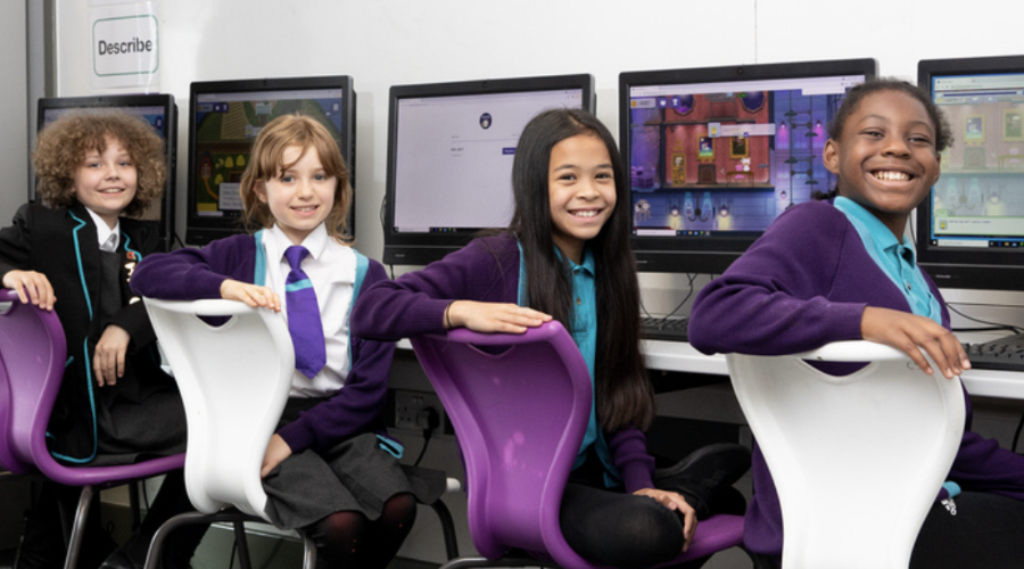 As one of today's most in-demand skills, coding has become an incredibly valuable tool for children in the 21st Century. Coding is a digital language that allows young people to understand how technology works, allowing them to become innovators and problem solvers — setting them up for success in a world which is becoming increasingly digitalised. It promotes critical thinking, fosters creativity, and builds confidence — highly transferable skills that extend far beyond a computer!
5 Reasons why kids should learn to code:
1) Builds confidence in their own abilities and potential
One of the best lessons children can learn is that failure is part of life, should motivate us to try harder and eventually leads to success. Coding is a perfect example of this — through trial and error, learners are continuously overcoming challenges and testing possible solutions until they achieve the desired outcome. This teaches kids that it's okay to fail and that mistakes or 'failures' can serve as a learning opportunity. As a result, they develop more confidence and resilience — essential skills for young people to develop, especially girls who are often subjected to unconscious bias.
2) Encourages creativity
First of all, coding doesn't get enough credit for being an incredibly creative outlet. Coding is all about creating and making ideas come to life — drawings, websites, games, and apps. By learning concepts like variables and syntax and how to apply them, children are empowered to create something totally new and use out of the box thinking with the skills to actualise their ideas.
3) Develops problem-solving skills
When kids code, they take complex problems and break them down into smaller, more manageable parts. They learn what it's like to approach a problem with critical thinking that ties in creativity, logic and resilience and teaches the value of trying different methods to reach a solution.
4) Improves communication
Just like learning any language, coding helps young people to express themselves and communicate complex ideas. It has its own grammar, known as syntax, that kids follow to provide simple instructions for computers to perform a task. Being able to break down problems, think logically and communicate effectively is useful in any situation!
5) Coding is the future
As our lives become more reliant on technology, there is an increasing demand for tech related jobs. Children today need to be digitally literate to excel in their future career path — being taught to code from an early age may open up exciting and lucrative opportunities for their future. Whether they grow up to be computer scientists or not, boys and girls who learn to code will have relevant skills, more opportunities, higher wages, and flexibility in their career.
Coding should be taught from a young age
To ensure that kids can benefit from learning to code, we first must provide access and promote participation from an early age. Research shows that if children — particularly girls — are not interested in STEM by age 11–12, it is unlikely they will ever be interested! Which is important considering that STEM fields are highly dynamic, fast growing and offer many well paid and highly sought after jobs.
Girls in particular often aren't encouraged to code, with many programming resources and tools for kids geared more toward boys, using robots, battles and Minecraft. Lack of representation and outdated gender stereotypes go some way to explaining the gender gap in STEM and why just 26% of those in the tech workforce are women. So it's essential we make code education inclusive and diverse, and make a conscious effort to engage children from a young age — especially those already underserved if we are to address urgent inequalities such as the gender gap.
This concern is shared by the founder and CEO of Erase All Kittens, Dee, who grew up with dreams of becoming a game designer, but assumed that this wasn't possible since coding wasn't taught at her school and she couldn't see anyone who looked like her making games. Years later she met her co-founders and the idea for Erase All Kittens was born. Sharing a passion for tech and advocating girls in STEM, they decided to create a game that made learning to code fun and engaging for all children.
Coding can be for everyone
The team spent two years carrying out extensive research, speaking with hundreds of teachers, parents and students before coming up with a new solution — a Mario-style adventure game designed to encourage children to learn by changing the game's source code, building and fixing the world as they play. Original coding mechanics, interactive dialogue and even collectible kitten cards (because… why not?!) all within a 'controlled hacking' environment, make it possible to teach kids as young as 7, not just the concepts of coding, but transferable digital skills.
Unlike most coding tools and toys currently available for kids, Erase All Kittens teaches HTML and CSS — using the same syntax that developers use — to help kids become familiar with web development. Whereas visual-based programming (drag and drop mechanics) teaches kids the basic concepts of coding, Erase All Kittens is text-based and bridges the gap between learning concepts and being able to code and create on the web. Students can see instant results as they code and there are different ways to complete the game so they are more likely to comprehend and build on their skills in the future.
Children are encouraged to be problem solvers, researchers, writers and designers, as well as coders.
Through introducing programming languages such as HTML, CSS and Javascript, the languages of all websites and web apps, EAK helps children understand how computers work, and offers a solid foundation for them to go on to pursue their interests and build their own designs, mobile apps, and video games.
After playing, 95% of players want to learn more about coding and 55% of all EAK's players are girls (as opposed to 18% for other tools). By replacing instructions with story-driven gameplay and fun dialogue, by using different coding mechanics and incentivising kids with 'instant results' coding — boys and girls are far more engaged and likely to continue learning to code.
Now used by 170,000 players and in over 5000 schools worldwide, EAK has grown more than we could have ever imagined and the community is expanding every day. The mission remains the same — to help close the gender gap in tech, and show that coding is for everyone!
Every child should learn to code, and have fun whilst doing so!
To summarise, if we want to set our children up for a bright future, coding is a vital skill that will prove useful for a lifetime. No matter what path they take in life, digital literacy will help young people to believe in their potential and explore amazing opportunities — there is no limit to what they could achieve.
You can check out the first (free) levels of our coding game here!!
Thanks for your support and keep in touch with us on Twitter, Instagram and Facebook for more updates!
Team E.A.K.