It's National Coding Week!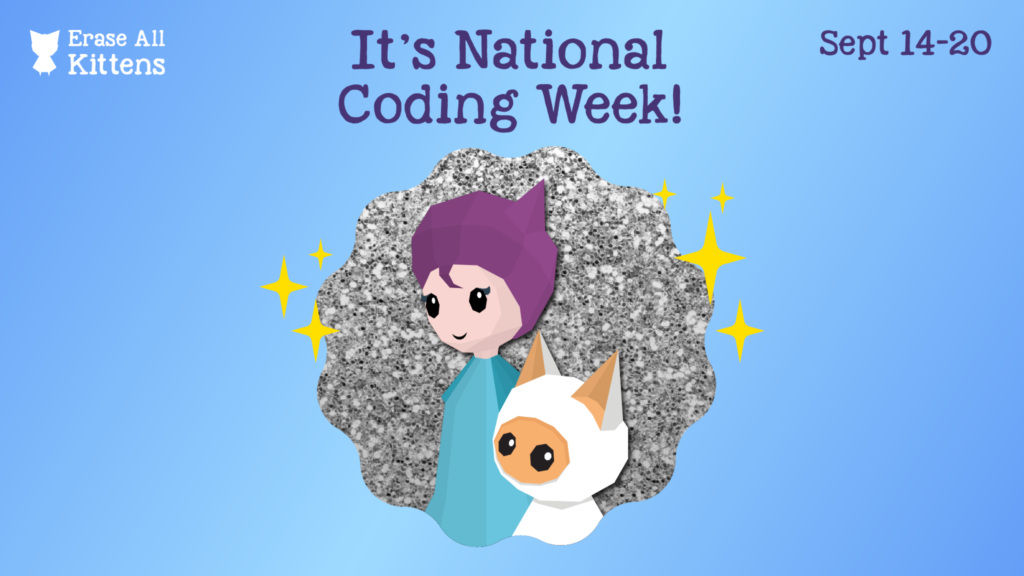 This year's National Coding Week 2022 is taking place from the 19th to the 25th of September. Not participated in National Coding Week before? Don't worry, in this blog we discuss when and how National Coding Week began, and how you can get involved, either at school or at home.

National Coding Week in the UK
National Coding Week UK is all about encouraging and supporting people to learn new digital skills, including computer programming. With the help of volunteers, schools, libraries and businesses all across the country, the aim is to provide an introduction to coding and programming for children and adults.
National Coding Week in the UK was started by ex-headteacher Richard Rolfe and tech entrepreneur Jordan Love in 2014. The first ever event took place in September 2014 on top of a double-decker bus in London! The idea came to Rolfe, because he was concerned that there weren't enough courses or resources to support training for teachers, governors or parents on coding and computer programming. With educators better equipped to teach coding, students have a much better opportunity to learn. So, he teamed up with his ex-pupil Jordan, to launch National Coding Week and set up training initiatives for adults including teachers, parents, business leaders and the unemployed.
Why should children and adults learn computer coding?
Coding is an increasingly important skill, as many 21st Century jobs require knowledge of computers and how they work. However, learning how to code also helps boost children's academic performance, as it helps them to gain confidence and problem solving skills in maths and other STEM subjects. Plus, it helps them to plan and organise thoughts, which is great for writing and comprehension! The benefits of coding aren't limited to just children either.
Coding can help people of all ages develop their:
Communication skills
Problem-solving skills
Collaboration skills
Confidence in their abilities and potential
Resilience
National Coding Week theme
The National Coding Week 2022 theme is 'how learning new digital skills can help you, help others and help society' - and the organisers want to hear from you! You can send a 30-second video to @codingweek on Twitter, or @nationalcodingweek on Instagram, using the hashtag #NationalCodingWeek. This is an opportunity to get creative and share how learning a new digital skill, such as coding, has benefited you and your community.
How to get involved in the National Coding Week 2022:
Whether you're a parent, teacher or student, you can take part in this amazing educational event. Here's how:
Play Erase All Kittens! National Coding Week is an inspirational event designed to help people feel motivated to learn new digital skills - and one way to make it fun is by playing games that encourage children to apply these skills. Erase All Kittens is a revolutionary web-based adventure game designed to teach all humans aged 8+ how to code in professional languages. Using quirky characters and exciting gameplay with a huge emphasis on storytelling, children create, build and problem-solve using code, as they play. It's especially good at encouraging girls to code.
Take a course in coding. There are many accessible online courses you can take. Or, your local school, library or community hubs will have ToolKits designed especially for National Coding Week in the UK.
Join a coding club. By joining a coding club, you'll get to meet and collaborate with other coders at your level. They're great for beginners as you'll be able to ask and answer lots of questions.
Share your work on social media and join in with online discussions. When used safely and responsibly, social media is a great way to engage with others and share ideas.
Teachers - discover how Erase All Kittens can support the computing curriculum in schools.
Parents - find out more about learning code at home or try for yourself with our free trial!

Learn more about how Erase All Kittens is supporting National Coding Week and how you can get involved.